It's hardly an exaggeration to say that India's civilization is one of the oldest in the world. All throughout its history, it has witnessed the rise and fall of several kings, dynasties and empires. Each of those in power, however, left behind their legacy in the form of a monument, maybe a fort, palace or any other historical structure. Apart from that, there are temples and caves which bear testament to the artistic excellence attained in the past ages. These places of historical importance aren't just significant as tourist destinations, they also attract lovers of art and history. As a result, India today is dotted with several historical places that remind you of its illustrious past and glorious reign. How much do you know about the history of India? Is your knowledge about its history confined to textbooks? If yes, then this blog of 15 historical places in India that you can't miss is for you. Read on!
Taj Mahal, Agra
One can go on praising the Taj Mahal, a UNESCO World Heritage Site, with an uninterrupted flow of adjectives – magnificent, outstanding, amazing and incredible. However, none of those can accurately do justice to its beauty. The only way to do that is to visit this incredible structure made of pure white marble. Everything about it reflects grandeur, from its minarets to its dome.
Shah Jahan had this monument built for his wife Mumtaz to express his undying love for her, and today, lovers cite this as an example when expressing their love to each other. The construction of the Taj Mahal, which is also one of the must visit UNESCO World Heritage Sites In India, took around 22 years to complete, and no wonder, the effort of every year is reflected in its construction.
Do you know? Inspired by the Taj Mahal, Dubai is planning to build a hotel and shopping complex which is estimated to be four times larger than the original structure.
Don't miss: Nighttime shows at the Taj Mahal
Timings: Open from sunrise to sunset
Red Fort, Delhi
Red Fort, a UNESCO World Heritage Site, is a symbol of the Mughal Empire at its peak. The enormous size, aesthetic proportions and style, all represent an age of unrestrained opulence. Amidst the unceasing bustle of Old Delhi, stands this colossal monument, evoking nothing but admiration from the onlookers.
Red Fort, which is one of the popular forts and palaces in India, was also built by the Mughal emperor, Shah Jahan. It took over 10 years to complete, and was constructed when the emperor decided to shift his capital from Agra to Delhi. Back then, the fort was known as Qila-e-Mubarak. It is from the ramparts of Red Fort that the Prime Minister delivers his speech on Independence Day.
Do you know? The Red Fort, as you know it, wasn't always red. In fact, it was white as it was made of limestone. It was the British who painted it red when the limestone began peeling off.
Don't miss: On your visit to the Red fort, be sure to check out the Palace of Colors, or the "Rang Mahal". It was the residing place of the emperor's wives, mistresses and maids.
Timings: 9:30am to 4:30pm daily (closed on Mondays)
Qutub Minar, Delhi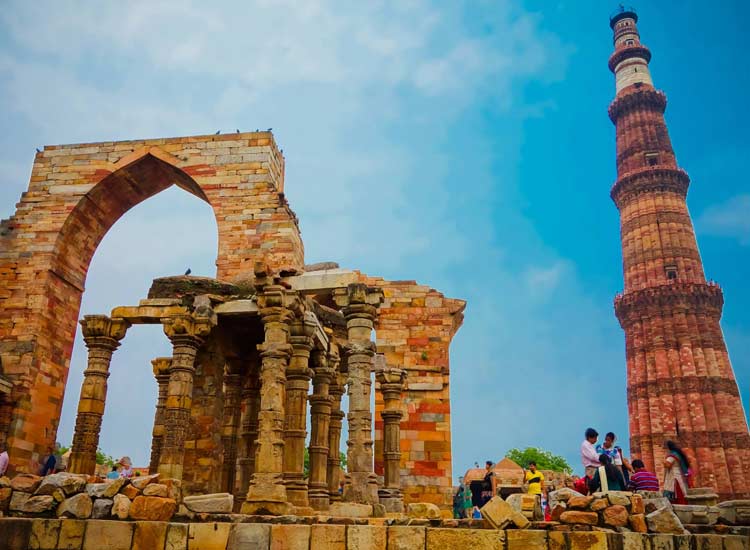 The Qutub Minar, another UNESCO World Heritage Site, is an incredible example of Indo-Muslim architecture that touches the skies at an incredible height of 240ft. It is named after Qutub-ud-din Aibak, the first Muslim ruler of North India. The place where Qutub Minar stands is usually regarded as the site of the first Muslim kingdom in northern India.
Verses from the Quran are finely carved onto its red sandstone stories, with most of them being mostly in Arabic. Another interesting fact is that the first mosque in India, Quwwat-ul-Islam Masjid, is located at the foot of the Qutub Minar.
Do you know? The Qutub Minar Complex also consists of an iron pillar which has not rusted even after a period of 2,000 years.
Don't miss: You should absolutely attend the decorative light show every evening from 6:30pm to 8:00pm. The Qutub Minar Festival which is held in October / November should also not be missed.
Timings: 7:00am to 5:00pm
Fatehpur Sikri, Uttar Pradesh
The Mughals can be credited with having built some of the finest monuments in India, and Fatehpur Sikri, a UNESCO World Heritage Site, is yet another example of that. Although, it should be said that it is more a small city than just a monument. Built during the reign of Akbar, this royal city is home to several buildings like Birbal's Palace, Tomb of Salim Chisti and Jama Masjid.
This royal city, which, for a brief period of time, served as the capital city of Akbar, today wears a look of melancholy while its rich sandstone walls reflect the glory of a past age. You will also come across the place where Tansen, the legendary singer, practiced his singing. Watch out for the Buland Darwaza at the entrance, which measures almost 54 meters.
Do you know? It is believed that many women, who were unable to give birth to a child, would come to the tomb of Salim Chisti to seek blessings.
Don't miss: Two of the buildings which you must check out on your visit here are Diwan-i-Aam and Diwan-i-Khas.
Timings: Sunrise to sunset (closed on Fridays).
Agra Fort, Uttar Pradesh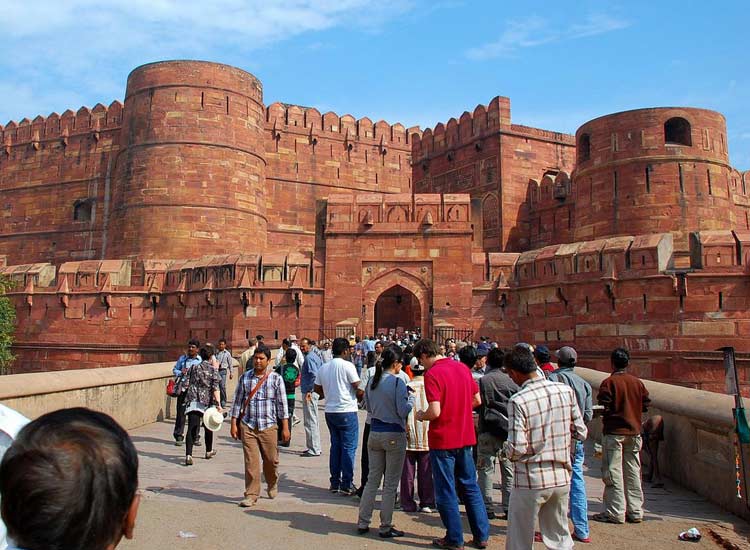 Looking at Agra Fort, one would get the impression that for the Mughals, opulence and grandeur were seemingly alien terms. Located in Agra, a city included in the Golden Triangle Tour India, it beautifully brings the elements of aesthetics to size. The massive fort was built by Akbar in 1565 AD, and stands out for its fabulous design and incredible construction.
The fort also consists of two ornately designed gates, the Amar Singh Gate and the Delhi Gate. Visitors can only enter through the Amar Singh Gate. The Agra Fort, which is always included among the must visit forts and palaces in India,  consists of a number of buildings like Moti Masjid, Diwn-i-Aam, Diwan-i-Khas and Musamman Burj, where Shah Jahan died in imprisonment.
Do you know? Agra Fort found a mention in one of the cases of the famous detective, Sherlock Holmes, "Sign of the Four". This was also the location for the Bollywood movie, "Jodha Akbar".
Don't miss: Some of the important buildings inside the Agra Fort which you should absolutely check out are Jahangir Palace, Nagina Masjid, Moti Masjid, Mina Masjid and Zenana Mina Bazaar.
Timings: Agra Fort remains open from sunrise to sunset.