It is no exaggeration if said that trekking is one of the most popular adventure sports in India, famous world-wide. It is lifetime experience, which offers you a high adrenaline rush and a chance to come close to the wonders of nature. The Himalayas offers several trekking routes, which range from being easy to extremely difficult. Such trails are a mix of flora, fauna, man-made structures, cultural experiences, religious delights and much more.If you too are in search of such wonderful pleasures,
Hampta Pass Trek, Himachal Pradesh
Starting from village Hampta in the Kullu Valley and finishing at Chatru in the Lahaul & Spiti Valley, the popular Hampta Pass Trek is of around 35 km. The duration is of around 4 to 5 days, with the highest altitude being 4400 m. If this is going to be your first high-altitude trek, it is an ideal option for you. The scenery is breathtaking and the experiences are unforgettable. You walk past snow-covered valleys, dense deodar forests, floral meadows, crystal clear water streams, Himalayan avifauna and finally end it by walking through barren lands of Lahaul-Spiti. The trek also includes of night camp stay at Chandra Tal.
Difficulty Level: Easy
Best Time: June to Mid- November
Beas Kund Trek, Himachal Pradesh
One of the most challenging trekking places in India, Himachal Pradesh offers a wonderful short trek named as Beas Kund Trek. It is a popular long weekend trail in Manali. Walk along the banks of River Beas, as you enjoy wonderful views of the Pir Pinjal ranges, and Dhundi & Bakarthach meadows. Climb upwards to arrive at the originating point of the River, a glacial lake. It is also called Beas Kund, which as per legends was the bathing site of Sage Vyas, the author of Mahabharata. No prior trekking experiences is needed for this trek.
Difficulty Level: Moderate
Best Time: Mid-May to Mid-October
Chandrakhani Pass Trek, Himachal Pradesh
With generally a duration of around 10 days and maximum altitude of 3650 m, Chandrakani trek has a distance of 22 km. The Pass lies at a higher elevations and the surrounding views are stunning. The journey starts from the picturesque Naggar Village in the Kullu Valley. Once at the Pass, treat your eyes to the views of Pir Panjal, Deo Tibba and Parbati peaks. As you walk past meandering paths, dotted with oak and fir trees, enjoy the isolation being offered to you, away from human eyes.
Difficulty Level: Moderate
Best Time: Mid June to Early October
Valley of Flowers Trek, Uttarakhand
Clearly one of the best trekking tours in India, Valley of Flowers trek in Uttarakhand takes you to the UNESCO world heritage site and also the Sikh pilgrimage site of Hemkund Sahib. The trek distance of 55 km and the highest altitude is of 3658 m. During the monsoon season, this pristine valley gets covered with various kinds of thousands of colorful high-altitude Himalayan flowers, making it look like a heaven. Starting from Govindghat, it is ideal for trekkers of all age groups. Admire the finest creations of Mother Nature and feel the spiritual bliss.
Difficulty Level: Easy to Moderate
Best Time: July to Mid- September
Rupin Pass Trek, Garhwal, Uttarakhand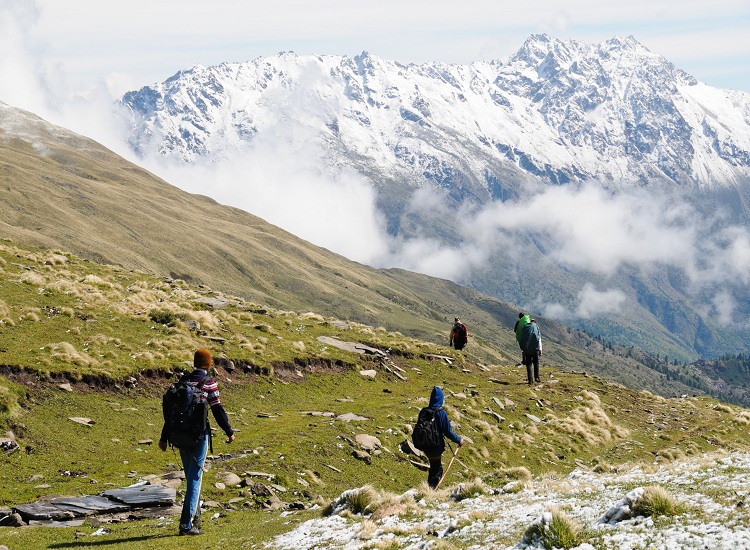 One of the best places for trekking in India, Garhwal region has the challenging Rupin Pass Trek, which is of around 7 days with the maximum altitude of around 15250 feet. This trek of approximately 52 km starts from Dhaula in Uttarakhand and ends at Sangla, Himachal Pradesh. Loved by expert trekkers, this trek is full of challenges and breathtaking scenery. Only for people above 14 years of age, it involves walking on various kinds of terrains- rugged, meadows or snow, encountering waterfalls and a hanging village. Savor stunning views of Kinner Kailash Peak.
Difficulty Level: Difficult
Best Time: May to June and September to October
Dzongri Trek, Sikkim
Best trekking in India can be done in Sikkim by embarking on a 5-day Dzongri trek, ranging from easy to moderate difficulty levels. The starting and ending point of this trek is Yuksom, as one covers a distance of 21 km, with maximum altitude being 15,000 feet. If you have limited time in your hands and wish to admire the best Himalayan views including Dzongri La peak, and Mt. Kanchendzonga, it has to be this trek. This walking expedition takes you through Saachen, Bakkhim, Tshokha, Kachenjunga National Park, a number of hanging bridges, and gushing waterfalls along with white and red rhododendron flowers. This high-altitude trek also needs a day for acclimatization.
Difficulty Level: Easy to Moderate
Best Time: April to June and October to December